Accommodation in Marple & Stockport
Originally built as stables these 5 self-catering holiday cottages in Marple & Stockport have been renovated to a high specification, whilst remaining sympathetic to the original stone features and are located on the edge of the Peak District. Choose from Bluebell, Wild Orchid, Holly, Harvest or Goyt.
Bluebell and Wild Orchid are situated on the ground floor, with a traditional style feel. Each has opening patio windows to the shared rear gardens. An original cobbled terrace, picnic tables and BBQ overlook the river for a quiet evening in.
Harvest, Holly and Goyt cottages are situated on the first floor in the converted hay loft with skylights. Holly and Harvest are modern, light and airy. Goyt, however, falls somewhere in between, with a contemporary twist of French style "Shabby Chic."
All cottages are dog friendly, accepting well behaved dogs. Please let us know on booking – there is a nominal charge for extra cleaning.
During current Covid 19 restrictions all cottages are deep cleaned and disinfected between guests with a 2 hour air exchange and complete laundry change. We operate a 2 metre social distancing policy with hand-washing and sanitiser. A complete self check-in can be arranged and in each cottage there is an in-depth information file, with all you need to know during your stay.
Our Holiday Cottages in Cheshire
Here at Magpie Cottages we provide a wide range of luxury holiday cottages in the Peak District with hot tub access, located near the picturesque Cheshire county. With these beautiful views at offer, overlooking the Peak District, being in an accommodation which is suitable for people of all ages makes the perfect break with friends and family. Whether you are looking at hot tub holidays for a romantic break or a family getaway to a scenic place to explore with stunning views for the family, Magpie Cottages is the perfect place for you! With our luxury holiday cottages located in Marple and Stockport, Magpie Cottages offer an ideal location away from home with easy access to transport links.
Amenities
Our luxury holiday cottages include the following;
Central Heating
Spa with Hot Tub/Sauna/Steam Room
Satellite TV
Fridge/Freezer
Kids Playground
Plus much more.
If you are looking for spa breaks, we also provide a range of spa treatments on site which includes, facials, massage, manicures and pedicures. As well as the beautiful views to enjoy, we provide the facilities to provide you with the best possible break from city life for the whole family or party of friends. We are also pet friendly with stunning woodland walks and scenic great outdoors to explore in beautiful countryside with rolling hills and fantastic views throughout the year.
As our luxury cottages are located near to Cheshire and the Peak District National Park, we receive customers from all over the country who are looking to experience the sensational views the location has to offer, whilst being in the best relaxed state possible.
Each cottage contains a double bedroom, large bathroom (with bath and shower), kitchen with hob, oven, fridge, toaster, kettle and microwave. We have a purpose-built laundry room, with washing machine and dryer plus additional freezer space.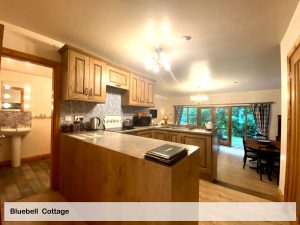 The open plan living and dining area has 2 sofas, one of which folds out to a full-sized double bed (sleeps up to 4). Included are a flat screen TV with free sat, DVD player, CD player with iPod dock, wi-fi internet, picnic hamper, bedding and towels. Cots are available in each cottage and a free welcome pack will be found upon arrival. Contents include homemade organic bread, jam, organic butter & free-range egg (subject to chickens!), selection of drinks and basic cleaning products. There is ample car parking, electric gates and CCTV for peace of mind security. All cottages are non-smoking. For larger groups our 5 cottages can be interlinked.
If you need accommodation in Stockport, Greater Manchester or that little bit of extra relaxation on your break then Magpie Cottages is the ideal place to be. You can use our cottages with a luxurious hot tub in the Peak District as a base for all your sightseeing and sporting activities planned. Just contact us for more information.
Activities
If you are a keen angler, our luxury holiday cottages are situated on the River Goyt which is well known for its brown trout, grayling and even the odd Salmon passes through the stretch of river. Alternatively, you can enjoy a relaxing long walk or cycle along the riverside and take in the picturesque views it has to offer.
Directions From Cheshire to Magpie Cottages
From the M56 – Head north east on Forest Rd/A49. At the roundabout, take the 1st exit and stay on the A49. At Stretton Roundabout, take the 4th exit onto the M56 slip road to M6/Manchester.
Continue on the M56 to Stockport. Take junction 27 off the M60. At the roundabout take the 4th exit, A626 and follow the signs for Marple. Stay on Stockport Road for around 4 miles and this will bring you to the town of Marple.
Turn left at the traffic lights onto Dale Road (be sure to look out for the Railway Pub on the right hand side) and follow the until it narrows down to a lane. Bear right and continue for approximately 1 mile and you will see Magpie Cottages on the right hand side.
For further information on availability and rates on our holiday cottages near Cheshire, contact us on 07718 341193 or alternatively email us on magpiecottages@hotmail.co.uk and a member of our experienced team will be on hand to assist with any queries which you may have.