If you are looking for a short break in England then you should consider visiting the Peak District, one of the most beautiful places in England. The rugged landscape and quaint villages make for a picturesque vacation spot that you'll never forget.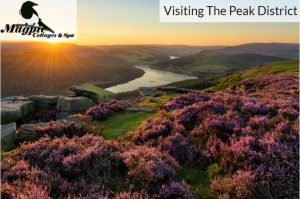 This region is filled with beautiful scenery and interesting places to visit, including Magpie Cottages, for luxury Peak District cottages with hot tubs! It's also home to many outdoor activities that will keep you entertained all day long. Read on to find out more about this fascinating area of England.
The Peak District is a great place to visit if you love the outdoors. There are lots of things to do outside like fishing or birdwatching. The rolling hillsides are perfect for an afternoon stroll and there's even some great hiking. There is plenty to do for families looking to have some fun! You can also go wine tasting or take a scenic train ride. The kids will love a trip on the steam railway and there's even miles of family-friendly bike paths.
It is also home to many interesting historic sites including Chatsworth House, Haddon Hall & Hardwick Hall which are all open for tours throughout the year! The children will love visiting these popular tourist attractions with their school in September or during the summer holidays.
If you are looking to do some shopping, there are plenty of unique boutiques & specialty shops around the Peak District for all budget ranges! There's also a wealth of cosy tea rooms and cafes where you can enjoy a delicious afternoon cream tea with your friends or family after an adventurous morning in the peak district.
Peak District cottages with hot tubs offer all the comforts of home, so it doesn't matter how long you stay because you're sure to feel right at home during your visit. The place is absolutely gorgeous during the winter months because you can see all of the frosted leaves, barren trees and even some rare snowfalls.
There are plenty of places to stop for lunch when out sightseeing! The Peak District has a great selection of pubs and restaurants that serve everything from traditional afternoon tea to modern British dishes. You can be sure to find somewhere to dine that will suit your tastes and budget.
Staying at Magpie Cottages in Marple is an ideal base for you to explore the Peak District. Situated near Stockport and Romiley, you can take a half hour drive down the road and be in the heart of it all. Explore our website where you can find more information about our accommodation. If you need any further details or have any other enquiries, give us a call on 07718 341193 or email magpiecottages@hotmail.co.uk.