Planning a self-catering holiday can be a daunting prospect, but with these top tips you'll know exactly what to do! If you're looking for some advice on how to make your self-catering trip more enjoyable and stress free, read our blog post now.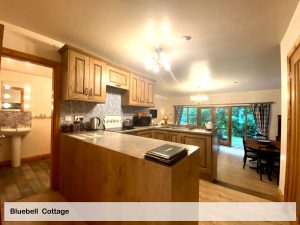 Being prepared before you embark on your well-deserved self catering holiday break will help make your stay much more enjoyable and enable you and your family or friends to relax. Here are our top ten tips to bear in mind when planning your stay.
1) Make sure to research the area before booking accommodation.
Check the best time to visit, as well as what activities are on offer in the area.
Read reviews from previous visitors and find out if there is anything that would cause an issue for you (e.g., noise pollution).
Research how far away your accommodation will be from restaurants, tourist attractions or public transportation.
2) Bring your own essentials with.
Pack a small bag with your essentials for the day. This will allow you to explore and buy what you need when it's necessary without having to carry everything around all day.
Bring an empty suitcase or bag so that clothes can be washed in case of any spills or accidents. Bring good walking shoes, a map of the area and any relevant travel insurance documents.
3) Pack light!
Packing too much for everyone will mean heavier luggage to carry around and there may not be enough space to fit in any souveniers that you might wish to take back with you, as well as not having that extra space in the car.
4) Keep everything simple.
When you plan a self-catered holiday, cooking can be stressful and tedious. This is where the one pan dish comes in clutch; simple dishes that are quick to make and don't require much cleaning. No need to sacrifice taste for convenience either, these easy dishes full of flavour too.
5) Plan for your arrival.
Do you know where to pick up the keys for your accommodation? Have you got all the address and contact information? Is there enough petrol in the car to get you there? Thinking about your arrival can help avoid any potential stress when you arrive.
6) Act like a local would.
Shopping at the local supermarket may seem like a goood idea for convenience but there may be a smaller, local shop that stocks the same items at a competitive price. And if you are visiting somewhere for longer than just a few days, then it's worth checking out some of the local restaurants too – they might not be as expensive as you think and can give you some insight into what life is like there.
7) Order any meals in advance.
You will probably be hungry after a long trip so why not book your meal well in advance of your stay? That way you can enjoy a long, relaxing soak in the hot tub or read at the same time as waiting for your dinner to be delivered! The meal can be ready in about an hour or so after you've arrived. It's much more preferrable than having to shop for food in a busy supermarket and then carry the shopping back in a hot car.
8) Be prepared for any mis-haps.
It is advisable to take any first-aid essentials that you might need with you, as well as any medication that your GP may have prescribed for you. This also applies to the kids: sun cream, plasters and so on! Even though everyone may be feeling fit and healthy, being in a new, unfamiliar environment may result in some slips or falls and eating differently may sometimes result in stomach upsets.
9) Familiarise with local areas.
Thanks to the Internet, you can now access a wealth of information on the local areas where you're going to be staying. Find out where the best places to walk, local parks and restaurants around your accommodation. Visit our local activites section on our website to learn more about some of our most recommended things to do whilst staying with us.
10) Know what is available.
Make your you're familiar with what there is that's available at your accommodation. You can find everything listed in each of our cottages from the accommodation menu link. For example, whether there is a freezer to store any lollies and ice-cream, DVD player for watching films or iron to keep your clothes neat.
With these tips in mind, you'll be ready to enjoy a stress-free self catering holiday. Now that you have the knowledge of what to do and what not to do when planning for your next trip away, it's time to book! Call us at Magpie Cottages on 07718 341193 or email magpiecottages@hotmail.co.uk for any information about our self catering accommodation in Greater Manchester.