Planning a self-catering holiday can seem overwhelming, but fear not! We have compiled a list of expert tips to make your vacation a breeze. If you're seeking advice on how to enhance your self-catering experience and eliminate stress, look no further. Read on for our comprehensive guide.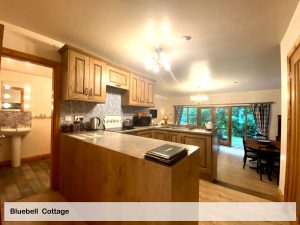 Being prepared before you embark on your well-deserved self catering holiday break will help make your stay much more enjoyable and enable you and your family or friends to relax. Here are our top ten tips to bear in mind when planning your stay.
1) Make sure to research the area before booking accommodation.
Before booking your accommodation, it's essential to conduct thorough research on the area. Determine the best time to visit and explore the available activities in the vicinity. Take advantage of reviews from previous visitors to uncover any potential issues like noise pollution. Additionally, assess the proximity of your chosen accommodation to restaurants, tourist attractions, and public transportation.
2) Pack Smart & Bring Essentials
When embarking on your self-catering holiday, pack a small bag with your daily essentials. This approach allows you the freedom to purchase items as needed without the burden of carrying everything throughout the day.
Consider bringing an empty suitcase or bag for any laundry requirements or unexpected spills. Don't forget comfortable walking shoes, a map of the area, and essential travel insurance documents.
3) Pack light!
To avoid cumbersome luggage and leave room for souvenirs, pack light. Overpacking can lead to unnecessary stress and limited space. By travelling light, you can enjoy the convenience of extra storage space, both in your accommodation and vehicle.
4) Simplify Your Cooking Experience
Self-catering holidays can sometimes make cooking feel like a chore. Simplify meal preparation with one-pan dishes that are quick to make and require minimal cleaning. Enjoy the convenience without sacrificing taste, as these dishes are packed with flavour.
5) Plan Ahead for a Smooth Arrival
Ensure a smooth arrival by taking care of key details in advance. Familiarize yourself with the process of picking up your accommodation keys, and gather all necessary addresses and contact information. Additionally, make sure your vehicle has sufficient fuel to reach your destination. A little preparation goes a long way in avoiding potential stress upon arrival.
6) Embrace the Local Experience
While shopping at a local supermarket may seem convenient, consider exploring smaller, local shops that offer competitive prices. If you're staying for an extended period, venture out to local restaurants. You might be pleasantly surprised by their affordability and gain insights into the local culture and way of life.
7) Pre-Order Meals for Convenience
After a long journey, hunger is likely to strike. Why not pre-order your meals well in advance? This allows you to relax and enjoy your arrival while waiting for your delicious dinner to be delivered. Skip the hassle of shopping in a busy supermarket and carrying groceries in a hot car.
8) Be Prepared for the Unexpected
It's wise to pack essential first-aid supplies and any prescribed medications. Remember to include items like sun cream and plasters for the entire family. Even if everyone is feeling healthy, unfamiliar surroundings can lead to accidents or stomach upsets due to dietary changes.
9) Explore the Local Area
Take advantage of the internet to gather information about the local area you'll be staying in. Discover the best walking trails, nearby parks, and recommended restaurants close to your accommodation. Visit our website's local activities section for our top recommendations on things to do during your stay.
10) Familiarise Yourself with Available Amenities
Make sure you're aware of the amenities provided at your accommodation. Check the accommodation menu on our website for a comprehensive list of amenities available in each of our luxury cottages. Consider whether there's a freezer for storing ice cream treats, a DVD player for movie nights, or an iron to keep your clothes looking neat.
With these expert tips in mind, you're well-equipped to enjoy a stress-free self-catering holiday. Now that you have the knowledge to plan your next trip, it's time to book!
Contact Magpie Cottages at 07718 341193 or email magpiecottages@hotmail.co.uk for more information on our exceptional self-catering accommodation in Greater Manchester.