Marple Locks is a very popular tourist destination for many people who are visiting the Peak District in England. For those who are staying at one of our cottages, it's worth planning your visit to Marple Locks. This article will tell you what makes Marple locks so special and help give you some ideas for when you're there – we'll also explore some things that may not be on everyone's radar!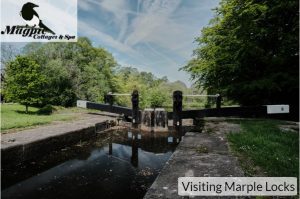 When visiting the Peak District, there is no shortage of things to do and see. Magpie Cottages are ideally located for exploring this wonderful area of England with many walks starting right outside our front door. This picturesque canal area sits on the edge of a lovely mill pond and has many historic buildings. There are plenty of great walks in the area, including one that takes you past an old water mill.
Marple Locks is particularly famous for its canal locks – it was the site of Britain's first ever lock.  There are six working locks on this single stretch, which winds around a large lake. The views from these locks will vary depending on what type you look at them from – they're often seen as picturesque and idyllic by visitors but can also be rather bleak when looking across the water to neighbouring townships in Greater Manchester!
There are plenty of other things to do whilst visiting Marple Locks too: there's lots to see and explore with walking routes that range between two miles up to 12 miles, a great fishing spot or even just sitting by one of the many bridges! It's an absolutely fascinating part of our industrial heritage. Apart from the stone aqueducts, Marple is also home to Benjamin Outram's equally superb wrought-iron railway viaduc next to its slightly taller stone aqueduct neighbour. Visitors can head to the railway walk which is an easy stroll that takes around 45 minutes where you'll get a feel for what life used to be like in this historic town.
There are lots of shops and cafes too – even if it's raining! If you're staying with us, then we can recommend some places close by or show them all off during our complimentary Red Rose Tea Tour.
History of Marple Locks
The Marple Locks stretch along one mile of the Manchester Ship Canal from its start at Castlefield Junction in Salford near Manchester city centre up until just before Ardwick Bridge after crossing over the River Irk valley towards Ancoats and Clayton Vale. The canal was built between 1885 – 1887 , with the locks being completed in 1886.
It was originally called the Marple Canal but this has now changed to The Manchester Ship Canal as it is a waterway for shipping not just canals.
The canal runs through some of Greater Manchester's most deprived areas and communities, including Ardwick Green, Ancoats and Clayton Vale.
In 2010-2012 regeneration work took place on the canal at Castlefield Junction in Salford near Manchester city centre up until just before Ardwick Bridge after crossing over River Irk valley towards Ancoats and Clayton Vale where there are plans to regenerate empty warehouses into new homes and offices.
The Manchester Ship Canal was also a setting for one episode in BBC soap opera "Coronation Street" when Pat Phelan, played by Connor McIntyre, pushes Joe Carter into the canal before running over him on his van's bonnet and driving off. This action caused controversy as it had been shown just 24 hours after a young girl died at an event nearby which involved her being thrown into water from height.
What To See in Marple Locks:
The Market Hall is the first thing you should visit when visiting Marple locks. This building has been a part of Marple Locks for over 100 years and not only houses shops, bars, cafes but also hosts events such as farmer's markets, food festivals and concerts throughout the year. Find out more about this well loved Lancashire landmark on their website.
Marple Lock Castle – see one of England's finest Norman castles in an awe inspiring setting overlooking the River Goyt Valley below. Explore its dungeons and enjoy lunch at The Courtyard Cafe with views across to Holy Island (Lindisfarne) in Northumberland.
You can also climb up Butt Lane to admire some beautiful Georgian townhouses and make your way back down to the historic Market Place (the oldest in England) with its Ye Olde George Inn, which has been for centuries a favourite meeting place of men from all walks of life.
Visit Tootal Broadhurst's Textile Museum – this is Western Europe's largest textile museum! It houses a vast collection of textiles spanning three millennia. You'll find an outstanding selection exploring English industrial textiles through Egyptian funerary wrappings.
It includes some wonderful examples of Lancashire cotton prints as well as rare Tibetan tapestries and woven silk brocades embroidered by hand. The collections reflect how throughout history our clothes have helped us express who we are – whether that be royalty or labourers, artists or politicians.
This is also a great place to find out more about the history of Marple including how textiles were integrated into our everyday lives.
In the vicinity, we have The National Trust property Dunham Massey Hall and Gardens which is an outstanding Tudor house with superb gardens.
The antiquarian bookseller Johnsons Bookshop in Stockport was established by William Johnson way back in 1848 – it's worth stopping off just to see one of England's oldest bookshops!
It has been run by his descendants ever since and there are still many original features from when he opened such as stained glass windows, panelling made from pieces of Victorian ships' timbers and oak flooring salvaged after bombing raids on Manchester during World War II.
If you're looking for something more active to do, why not try the Stockport Adventure Centre.
At last but certainly not least is Manchester – a vibrant city packed with history, famous for many things but most of all for the Industrial Revolution.
You can find links to places to visit locally and landmarks in Manchester from our local activities section. With som much to see and do at Marple Locks, choosing to stay with us at Magpie Cottages could be the perfect way to round off your trip.